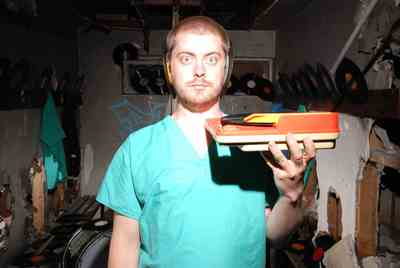 Back
Mr Dick
Mr Dick is a man from up north England who produces the freshest hip hop beats this side of the hemisphere.
He is 6 foot one and heaps of fun.
He creates hip hop accross the range from straight break core nod your head sample based boring back pack spazzer hip hop shit to gutter synth hop.
His life revolves around finding fresh samples that no others can and he even has his dad diggin across the country. RESPECT TO DAD DICK AKA MR DICK SENOIR. He then flips them to a point where people wee. He has travelled the earth for his love of records.
Not only this but he is the synth master and dreams of a day when he can have a sexsynth change turning himself into an original subtractive analouge workstation. Self indulgence bliss. yeahhhh
However on the real…..
Mr Dick is a Producer to the stars and is working with Stig of the dump, Dr Syntax on their albums and of course a little bit with the Beggars. Check their new album when it dropssssssss. If that wasnt enough he is working with that Breahh Sonny "Jiggy Jameson" Jim.
He came to Sonny's rescue after he heard he had been sick of A and R's dangalin Carrots. Mr Dick didnt deem this fair. So he will be doing an ep with him very soon which will also be done with Nieve of the 3 amigos. Dick also submitted cuts for the Sonny Jim mix tape out on Dented and as long as he speeds up his ways may even do some more him in the future.
Dick sprouts from the same crews (TACTICAL THINKIN/RLD) as the 3 amigos. He djs(and produces a little bit for them) at their live rugged and raw shows across the counrty. He has also supplied cuts for their album World war 3.
Dickie's crew is Surreal Knowledge who he produces for, dj's for and plays all types of instruments for. Their album is soon to come and will be a certified uk hip hop excentric banger sure to stick out more than your mas roids. 4 STARS HIP HOP CONNECTION for the ep.
The new found love for slim ties and retro tees has resulted in him working with the rapper DEADLINE from Birmingham. Their album is also comming soon and is a slected blend of nu rave indie diced with hip hop roots meets Jasper Carrot. The samples were put away for this one while the guitars and instruments were brought out. We even have a cardigan for LEAF of the 3 amigos he loves us.
Anyway………..
Apart from all that the whole reason he has chosen a path in hip hop is to make enough money for a hemaaroid operation. Once he has enough to do this he will leave rap kind of like you know how Mase left rap for religion, HE WILL LEAVE RAP FOR ROIDS.
Now check his my space, love his steeze, remember the name and tell your ma….. peas out people Love in the third pesron MR DICK.
IF YOU WANT BEATZ GET AT MR DICK AND SURE ENOUGH, YOUR SHIT WILL BE DOPE TOOO.
If you also need cuts shout at me although im no NOnames.