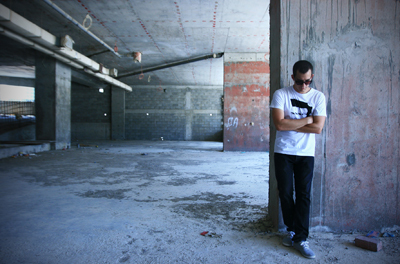 Back
Dj Solo aka Wriggly Scott
If you're reading this right now it's because you're wondering who I am. Well, I discovered hip hop early in life and am a self-confessed purist. In fact, my defining moment in life was hearing Ice Cube yell "turn off that bullshit, turn off that motherf+cking radio!" at the age of 10. I dropped the piano and guitar to start djing when I was 15 so I guess that means I've been djing for 16 years. I'm originally from High Wycombe, and started my career playing on the local pirate radio station and bars, moved to London in my twenties, and a few years later landed in Dubai where I've been ever since.
Did I mention I'm a bit of a purist? Well I've been pissing people off my music here for around 7 years now, during which time I've shared the stage with Quantic, Kyoto Jazz Massive, Nitin Sawhney, Jazzy Jeff, Cash Money, Jazzie B, DJ Woody, DJ Format, DJ Yoda, Phil Asher, Florian Keller and Aaron LaCrate to mention a few. I used to perform as the scratch dj for a local jazz outfit, and also helped co-found one of the most well respected hip hop crews to originate from the U.A.E., Diligent Thought. I also run club nights with my friends and if you ever pass through you can check us out at 'Freshly Laced', or check out my weekly radio show 'Another Music' (www.anothermusic.tumblr.com) where I play anything from jazz to bass music.
If you haven't guessed by now I'm also a producer. I've been making beats for a while now, and the good people at Dented have decided to put out my first release 'Who Is Wriggly Scott?' which is an 8 track EP featuring J-Live, Orifice Vulgatron, The Narcicyst, Omar Offendum, Ragtop, Jibberish and Feras Ibrahim. I like to think it's a truly global release in it's approach, being graced by artists from Iraq, Palestine, Sri-Lanka, Sudan, Syria, the UK and the US and to my knowledge is one of the first underground hip hop releases from this region to be released internationally.
So who is Wriggly Scott? It's actually me and you can find out more by checking out my releases and links below.
http://www.twitter.com/dj_solo
http://www.facebook.com/profile.php?id=1628891807&forceClose=1#!/pages/DJ-Solo-aka-Wriggly-Scott/117663214971653
Url: http://www.facebook.com/profile.php?id=1628891807&forceClose=1#!/pages/DJ-Solo-aka-Wriggly-Scott/117663214971653