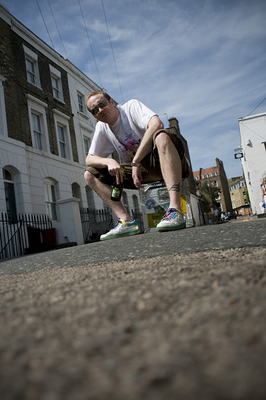 Releases
Hip Hop Blues EP
12" £5.00 Out of stock
Listen/Download
Released: 28-Jul-08
Back
Snuff The Ablist
Snuff made his bones in the early 90's and has consistently smashed shows all across the globe with his unique, adrenalin fuelled genre spanning DJ sets. Whether it's an outdoor free rave or an exclusive designer labelled glamour cat club DJ Snuff has been there and delivered.
Snuff first began playing out at the tender age of 15, a sleepless night of revision for GCSE's lead him to following his ears to a free rave in a field right on his own doorstep outside Glastonbury. A matter of weeks later he had bought his first pair of decks and 6 months later was playing up and down the south west and wales free party scene at the legendary Sunshine free parties. Snuff's unusual brand of early jungle and rave mixed with Britcore hip hop soon cemented his reputation as "one to watch" and lead to his first residence at the infamous Pawlett Manor, then one of the subjects of The Sun newspapers anti-rave/fun/youth culture war. Pawlett Manor was closed down shortly afterwards leaving a still young Snuff homeless and disillusioned with the government's scare tactics and policies regarding the music he loved.
Snuff moved down to Exeter in 1997 and continued to play Drum and Bass and Hip-Hop securing residencies at A Girl Called Bob, Dub Bliss and playing numerous headline slots at a variety of other nights across the region most notably on the Metalheadz tour, Deep and Dark and The Cavern's Friday night drum and bass sessions with DJ Cookie. It was during this period of time that Snuff, bored of beat matching, learnt to scratch and beat juggle, an obsession that still occupies his every waking hour.
1999 saw a return to London and it was within hours of moving to Hackney that he bumped into Epo of Double Impact and was introduced to DJ Daredevil. This was the beginning of Snuff's conversion into a world class turntablist and the extended practice sessions with DJ's such as Tiger Style, Daredevil, 2Tall, Square 1, Whut, Matman and numerous others helped add a professional polish to Snuff's already impressive bag of tricks.
In 2000 Snuff headed to Thailand for a 2 week holiday, arriving back in the UK he immediately packed his records up and returned to Bangkok securing residencies at the plush Q-Bar and headlining events at Taurus, an enormous club in a fashionable area of Bangkok. Despite the glitz and glamour of being a minor celebrity in a burgeoning scene Snuff still made the time and effort to return to his roots and play for free the monthly Full Moon parties at the Orchid bar on Koh Phangan, indeed if you attended any of the Full Moon parties from 2000-01 then you would undoubtedly have seen Snuff adding his trademark energy and enthusiasm to the already wild proceedings.
In late 2000 Snuff won a battle sponsored by MTV Asia and Red Bull and judged by a former peripheral member of the Invisible Scratch Pickles. This is when shit got real and Snuff was suddenly playing in Hong Kong, Malaysia, China and Japan to boot and having the time of his life.
Finally returning to UK in 2001 after touring Asia extensively Snuff settled in London and maintained a low profile, all the time honing his production skills and learning the beat making trade.
Since then Snuff has been playing at numerous nights around London including Hoochinoo, Funk From The Trunk, lending a teacher's ear at the edUK8 workshop day with fellow turntablist Mr Thing, spreading the UK hip-hop word with gigs in Bulgaria as well as working non-stop on his debut album tentatively entitled "All My Friends Are Famous" which has been picked up by Dented Records, home of the UK's all conquering Foreign Beggars crew. In 2006 Snuff appeared as a cameo in the Kashmere Video The Ark and has just completed another cameo appearance in the Double Impact video for Black Milk.
The leading single Hip-Hop Blues features none less than MC Mercury from the seminal UK crew Gunshot. Out of retirement and with a volcanic hunger to spit fire Mercury swings onto the track delivering his trademark flow which is complemented by the South Coast veteran Koaste (Last Men Standing/360 Physicals.)