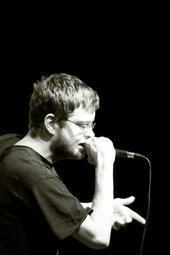 Releases
Back
Dr. Syntax
Having cut his teeth on two tracks on Foreign Beggars' 2003 debut Asylum Speakers, Dr Syntax has since become one of the most renowned and prolific artists on the British rap scene in his own right. His knack for super-tight, multi-syllabic rhymes, astute social observation and massive stage presence has won him a slew of fans across the UK and beyond.
Initially a regular in the Foreign Beggars' hugely popular live show, Syntax toured extensively throughout the UK with the group, including a prestigious spot at the 2005 Glastonbury festival. He was a regular performer at Brighton's premier hip hop night, Beer & Rap, which led to him collaborating with Geordie rapper and battle legend Stig Of The Dump. The duo, collectively known as Fatty & Speccy (both of whom were 2007 UK finalists in New York's End Of The Weak emcee challenge, with Stig going on to become world champion), hit the road alongside DJ Newborn to form the 'Beer & Rap Roadshow'. Combining self-depreciating humour and riotous stage performances to great effect, the show's popularity continues to grow, and has so far taken the crew all over the UK, and on numerous European excursions. 2007 also saw Syntax performing at the Hip Hop Kemp festival in Hradec Kralove, Czech republic, alongside DJ Blufoot and UK rap legend Jehst (YNR records).
After numerous guest appearances and collaborations with other artists, Syntax released his debut solo album, Self Taught, in 2007. The album received widespread acclaim in the UK music press and was featured in Hip Hop Connection's 'Top 100 Albums Of The Year' poll. Whether with keen-eyed, often scathing yet tongue- in-cheek social commentary, contemplative musings on life or straight-up cold rhyming, Syntax showcased his ability to work a concept with a skill and ardour all too often lacking in his contemporaries. Subcultures' roll-call of social groups mocked the deplorably self-indulgent side of popular culture, whilst portraying Syntax as a somewhat beleaguered onlooker. She's Quite Some Picture offered sagely advice to would-be Romeos sucked in by a pretty face over a pulsating Evil Sun production, while the Ido-produced A Dose Of Godzilla Slang brought things back to basics with epic orchestral stabs, grimace-inducing drums, darkly humorous imagery and a rousing guest appearance from Stig.
Look out for collaborations with Stig of the Dump and Skrein in the pipeline.
Partial Discography
Solo releases:
Dr Syntax Self Taught (Beer & Rap CD)
Dr Syntax Off The Radar Vol. 1 (Beer & Rap CD)
Dr Syntax Subcultures (Dented 12")
Dr Syntax She's Quite Some Picture b/w Max Miller (Beer & Rap 7")
Collaborations:
Foreign Beggars Asylum Speakers (Dented CD/LP)
Foreign Beggars Stray Point Agenda (Dented CD/LP)
Foreign Beggars Asylum Agenda (Dented CD)
Foreign Beggars Bukkake Ski Trip (Dented CD)
Foreign Beggars Let Go (Dented 12")
Steady Diggin' Workshop Frauds (Carbon Imprints EP)
Steady Diggin' Workshop Lt's Go Steady (Carbon Imprints CD)
Stig Of The Dump Homeless Microphonist (Beer & Rap CD)