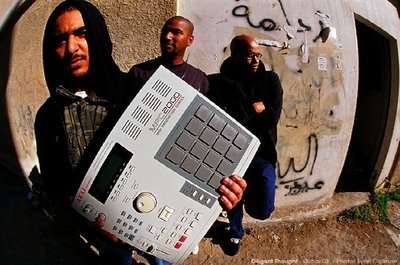 Back
Diligent Thought
Download the Lyricalligraphy mixtape for free here: http://www.sendspace.com/file/p9dpbd
Diligent Thought is a Dubai based Hip-hop group formed in early 2007 with their eyes set on pushing quality music from this region.
The group consists of:
Irshad Azeez a.k.a Jibberish
Firas Ibrahim a.k.a Toofless
Ameer Ismail a.k.a Sol-Phonic
Neil Andrew a.k.a DJ Solo
Their sound can best be described as a throwback to the 'boom bap' era of hip hop music, with lyrical stylings inspired by such greats as Black Thought, Talib Kweli and Mos Def among others and production influenced by Pete Rock, 9th wonder, Madlib, J Dilla etc.
The two MCs, Jibberish and Toofless hail from Sri Lanka and Sudan respectively, while the two beatmakers, Sol-Phonic and DJ Solo hail from Sudan and U.K.
The group has finished work on their first release, a mixtape entitled 'Lyricalligraphy Vol.1'. Feel free to download the mixtape from the link in this group or head to their myspace to do the same. The guys are currently working on an EP aiming for release by the end of 2008