Soulshine EP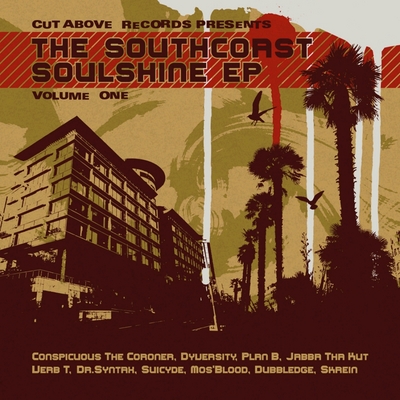 Available releases:
CD £6.00
12"EP £6.00
Artist:
Straight from the southcoast town of Bournemouth, Cut Above Recs bring you their 2nd release ft a whole host of uk emcees that are on top of their game right now.
Kicking things off is Skrein with his tale of how it all started on a summery beat by Dyversity with a flow that'll have you bumpin' your head for days with cuts from one of the uk's top turntablists, Jabba Tha kut.
on Jazz plague, Verb T spits only the way Verbs can with his smooth chilled out style over Jabba's jazzy boombapment.
Here Today is the illa posse cut ft. Suicyde, Conspicuous & Dr.Syntax, speakng from the heart over a moving beat.
My dreams sees Dubbledge & Suicyde spitting realness about political issues, everyday life, conspiracy theories over orchestral, melodic, laid back production from Dyversity.
Runaway Reflections comes in next with vocals by London's Mos' Blood speaking over Dyversity's chopped piano tinged break, about the struggle in everyday life and shit.
finishing off the ep is Plan B & Skrein's 'beef' between an anonymous ex-associate, talking it raw to the core over a haunted beat from Dyversity!
Production by Dyversity & Jabba Tha Kut All Cuts By Jabba Tha Kut
check it out… this shit is ill.. Cut Above Records in effect!!
Released on: 03-Jun-07
Show other shop items