9-5 ft Dubbledge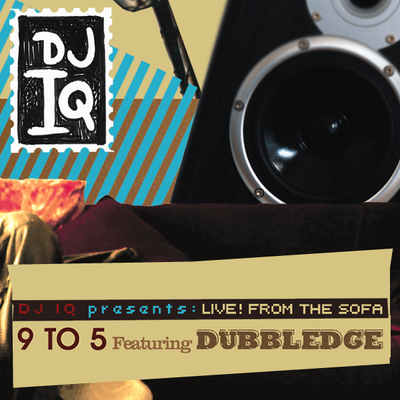 Available releases:
Artist:
Following on from the 2006 release of his debut LP 'Brain Food', DJ IQ is back with this very special digital download only release.
The first single, taken from his forthcoming album 'Live! From The Sofa' is '9 to 5' an irresistibly funky summer smash that is sure to shake off those '9 to 5' blues.
"DJ IQ's production belies his age…he's determined to create Hip Hop with both soul & personality" – Blues & Soul
One of the most active DJ/ Producers in the capital, DJ IQ's production credits are growing rapidly, not only with his solo work but with other high profile artists, including Foreign Beggars, Asaviour & Jehst. Working both as a solo artist and as Jehst's tour DJ, IQ has been busy gigging constantly, while still recording prolifically, building on his well deserved reputation as the best young DJ/Producer in the UK.
'9 to 5' features man of the moment, Dubbledge, and has already received strong support from Radio 1xtra Djs Rodney P & Skitz, Blakey, Mista Jam & Kiss 100 Dj's MK, Big Ted & Shortee Blitz.
"Man Can scratch, Man Can make sick f****** beats too!' – DJ MK, Kiss 100/Roots Manuva
Already dominating the UK's clubs and radio shows with its infectious bassline and funky guitar licks, '9 to 5' is undeniably a summer anthem for 2007. IQ's flawless production, accompanied by Dubbledge's witty critique of life in a 9 to 5 combines to deliver a drive-time favourite for anybody stuck behind a desk this summer. The unstoppable energy of the track grips you from start to finish, providing more than enough incentive for listeners to call in sick, spread their wings and just….fly! fly! fly away!
Released on: 16-Jul-07
Show other shop items