Season's Beatings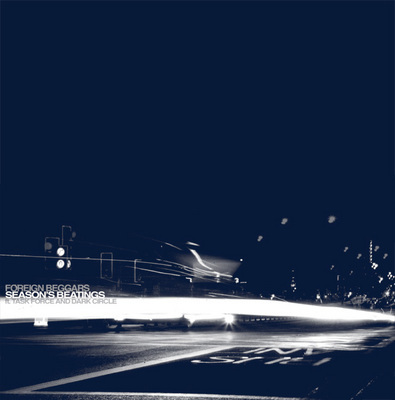 Available releases:
Artist: Foreign Beggars
After their highly successful debut release "Where did the sun go", Foreign beggars crew, Orifice Vulgatron and Dag Nabbit return for a second round of audio warfare, this time teaming up with Anglo-German rappers "Dark Circle", and legendary North London based group, "Task Force".
This is the second single from their forthcoming album, which has appearances from members of Mud Family (PM Muzik), Tommy Evans (YnR), D.V.S. (First Man), Carnage aka Earl J (Big Dada), Dark Circle (JazzFudge/Defcon), Dr. Syntax (Imagineers), Task Force (Lowlife/MFTC) Tau Rai, (Focus Few)….
Coded Rhythm Talk ft Taskforce
One experiences a barrage of abstracted emotions through the use of vivid mythological and medieval imagery. Talk of flesh crawling hybrids and chewing razor blades whilst drinking uranium and dancing with zombies, paints a disturbing picture on an equally grotesque beat, comprised of tense string stabs and a spooky banjo lick in minor key. This in turn causes the listener to feel almost claustrophobic, as if caged in by killer clowns in an evil circus scene. The verses are delivered in an off key manner demonstrating the use of complex flows, rhyming patterns and vocal textures, which are at points almost agonizing to the ears of the easy listener. Some truly futuristic and groundbreaking material for the more intense heads out there.
Evil Dr Hip Hop ft Dark Circle
…Almost the calm after the storm. Here we see a more laid back approach through the use of smooth and jazzy piano loops supported by a friendly bass-line and a minimal yet sturdy beat. This is both contrasted and surprisingly complimented by the chorus line, which consists of multiple layers of rhythmical reggae/jungle style vocals, harmonized and delivered at an amazingly high speed. All the verses vary in style and subject matter from chilled out and easy going to abstract and humorous with consistent intellect, interesting flows and multi-syllabic rhyming patterns. Guaranteed to rock your boat party.
Dark Parts Orifice Vulgatron
A more up-tempo track suitable for any situation, whether casually listening at home or getting down in a club…this one is a banger that truly captures the essence of what UK hip hop should sound like. The track is centred on a skippy beat with deep rolling sub bass and bouncy string stabs somewhat reminiscent of a Viking victory feast. Orifice gets his point across through the use of quick, tight flows and cheeky lyrics with a London jungle/ ragga style hook backed with the subtle wooing of an Indian flute and crunchy sitar samples. The high headnod factor coupled with the ever-changing delivery simply means that it'll be a long time before anyone gets bored of this one…
Released on: 02-Apr-03
Show other shop items