SCENE STEALERS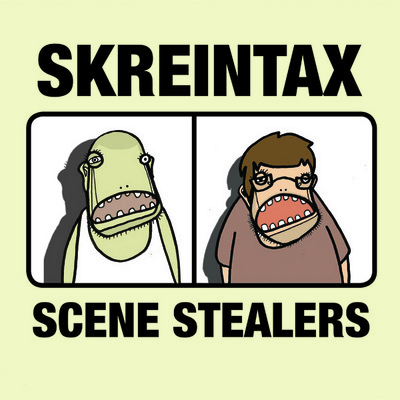 Available releases:
Artist: SkreinTax
Two of the most distinctive, colourful characters in the British music scene today, FOREIGN BEGGARS affiliates SKREIN and Dr Syntax deliver their brilliant new album just in time for Santa's bulging sack.
Far from the emphasizing the comedic, playful individual persona's of the duo, Scene Stealers sees Skrein and Doc Synners getting retrospective on deliciously smooth, boom-bap laced soundscapes provided by NUTTY P, KELAKOVSKI, CHEMO and DJ SNIPS among others. The STIG OF THE DUMP featuring 'Express Train' recounts the lads efforts to escape the smoke laden pit for some fresh air, as 'Venus' tells tales of that one devilish sket that most encounter in their lifetime, with DUBBLEDGE lending a storming 16.
This is some straight up unadulterated, high quality hip-hop. Banging production, impeccable flow and heartfelt lyrics make Scene Stealers one of 2008's albums of the year.
Released on: 01-Dec-08
Show other shop items