UNITED COLOURS OF BEGGATTRON OUT NOW!!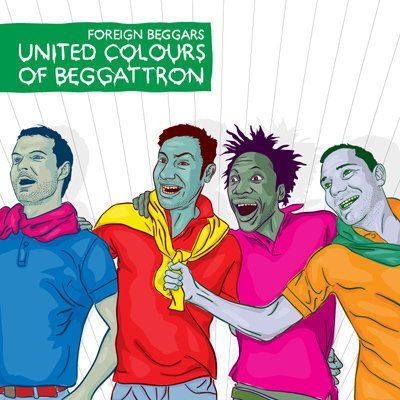 Available releases:
Artist: Foreign Beggars
OUT NOW!!!!!! Foreign Beggars are back at it again with their long awaited third album 'United Colours of Beggattron'. A truly genre meshing monster of an release, Beggattron shows a serious shift in the groups style, smashing the listener with exactly what you'd expect from the Beggar Camp: fresh and experimental hip hop music.
Their most mature effort to date, Beggattron adopts a more light-hearted approach than its dark and edgier predecessor Stray Point Agenda. Its massive sound is fun and accessible whilst remaining thoroughly rugged to the ear both lyrically and with the beats. With production from D'n'B kings Noisia,
Off-kilter beat collective Ghosttown, Dag Nabbit, King Knut, Rednaz and DJ 2Tall, this project is varied and highly progressive in it's sound whilst proving ever more stylishly tongue-in-cheek.
The eclectic mix of guest spots from Detroit's Guilty Simpson and Phat Kat, Ben Sharpa, Devlin, Audra Nishita, MC Badness, Dubbledge, Jehst, Kashmere, Dr Syntax, Kyza and Graziella(from X-Factor's Miss Frank!) reflect both the musical diversity of the project and the versatility of the Beggars themselves. With styles ranging from the bass heavy dancefloor smashers Contact and Seven Figure Swagger, to the uncompromising gullyness of Prove It, the dusty lo-fi grit of Don't Dhoow It or No More, or even the cheeky electro-pop number Keepin' The Line Fat, this release is set to merk dancefloors, stereos and I-pods indiscriminately.

Begzilla 09 snippetts from United Colours of Beggattron by ForeignBeggars
Released on: 19-Oct-09
Show other shop items