BENNY HUGE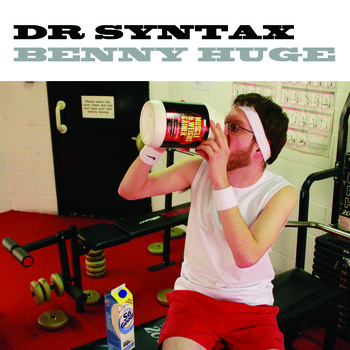 Available releases:
CD £8.00
Artist: Dr. Syntax
UK rap legend Dr Syntax is back with Benny Huge, his long-awaited second solo album on Dented Records.
From the massive fanfare opener Standard Procedure through to the epic prog rock finale The Bird Has Flown, its clear that Syntax has delivered a phenomenal sophomore release easily worthy of its predecessor, 2007's critically acclaimed Self Taught (named one of Hip Hop Connection's top 50 UK albums of all time).
Syntax's trademark social commentary and deadpan wit are sharper than ever. Big Business likens a youth's descent into a life of crime to a more conventional corporate career path, with each verse taking the form of an annual appraisal, culminating with the inevitable jail sentence being heralded as an indication of having 'hit the big time'. This knack for satire and original concepts shows Syntax is a world apart from the champagne-popping chart rapper du jour, and clearly he couldn't care less. This is everyman rap with a healthy distain for the contrived and corny, from an artist with a truly refreshing and distinctly British approach to the genre.
Released on: 20-Dec-10
Show other shop items